Panel "Heimatleben im Netz"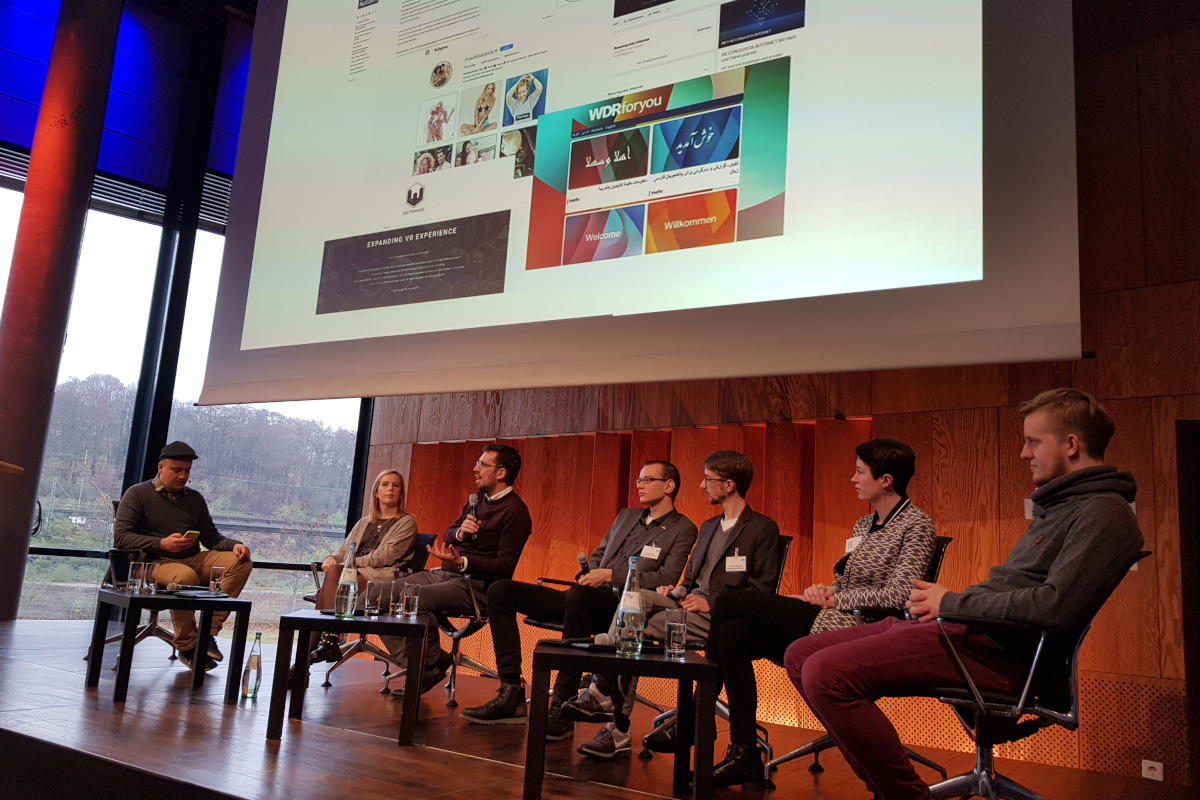 Clare Devlin / Mädelsabende
Dirk von Gehlen / Heimatverein für das Internet
Lukas Bothur / Reconquista Internet
Lukas Kuhlendahl / Weltenweber
Male Stüssel / WDRforyou
On the second panel "Heimatleben im Netz", five different journalists and media experts talked about particular experiences related to how the Internet is viewed as a home site for different purposes.
Clare Devlin, Instagram host of the WDR broadcast "Mädelsabende", uses the platform to address feminist themes with her community, such as breast cancer or violence against women, as well as topics such as migration and racism. She perceives that it is necessary to create a secure room for the female community where they can feel safe and "home".
Although "Mädelsabende" had not been intended to serve as a new "Heimat", addmittedly, the platform which has more than 65.000 followers, continues to serve as one. As she emphasizes, "there is a great need for this direct exchange within the internet community". For her it is astonishing that so many people are open to share their personal experiences and stories with them.
According to the Süddeutsche Zeitung journalist, Dirk von Gehlen, "Heimat im Netz" is where the cables are. He described the Internet as a mirror and a reflection of the society, as he says, connection, forhim, is clear, multi-cultural and self-evident. The Internet is, as he says, proof that it is time for a change over nationalism and racism. The problem is if one says that my home is better than yours. Dirk von Gehlen recommends that with the rise of hate speech all over the world, there should be lobby work for digital connections. For him journalists should also use classical digital media as well as new technologies in pursuit of democratic broadcasting.
As the internet grows in popularity, the panelists also expressed concerns over digital divides between young adults and the elderly. Virtual reality, for instance, presents new aspects into experiencing the virtual world. Right now he doesn't think Virtual Reality is "Heimat" for everyone, but they would like to support also elderly people to feel at home in the new virtual world, especially those who suffer from dementia illness, says Lukas Kuhlendahl of Weltenweber.
With the emergence of new technological tools, Kuhlendahl and his team of "Weltenweber" are transporting "Heimat" from what can be perceived as physical reality into virtuality reality. From their experience on working with HELIOS hospitals, they observed that elderly people really enjoy the new possibilites presented by virtual reality. With the help of his virtual reality program, people from HELIOS hospital were able to walk through the streets they knew from the past, as well as familiar landscapes such as old buildings and cars. But most important, they immediately felt at home again.
On the same line, Lukas Bothur with "Reconquista Internet" project focusses on encountering hate speech and fake news that are spread by the radical groups. He mentions that with all those fake news on internet, their mission as journalists is to improve the critical thinking. In order to do so with the project they have published a "blocklist" about the organization and groups that usually distribute hate speech or fake news. Bothur also emphasizes the importance of checking the source of the posts and news before sharing them. For him it is important to enhance the media education in the schools and teach the children how to deal with data on the internet.
On another hand, "Heimat" becomes an important online topic for immigrants, as Male Stuessel from WDRforyou comments. On her online program which was launched since 2016, migration and "Heimat" played a great role in the content of the platform. They make videos in different languages, in order to inform people with migration background about the daily life and formalities in Germany, she says. In that way, the target groups receive information directly in their mother tongue on social media. The project has received positive but also negative feedbacks, due to some topics which are considered controversial, such as relationship between men and women or sexuality. So they deal much more with this negative feedback in order to understand the different point of views.
Live-Redaktion: Tracy Kariuki, Carla Portillo, Kathrin Keller, Eleonor Nandwa, Ahmed Ahmed, Amena Khatun, Mohammed Mohammed